The Karpaz Peninsula (Pan Handle) of Cyprus
The unique peninsula is all about untouched nature & uncrowded golden sandy beaches.
The untouched part of the island...
The beautiful Karpaz Peninsula is a long journey from Kyrenia. However, for detailed exploration, consider spending time at one of the hotels on the east coast of North Cyprus…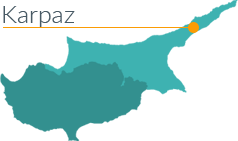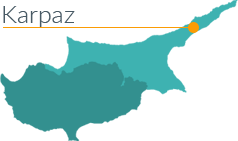 The Karpas Peninsula
Also known as the pan-handle due to its distinctive shape, the Karpas Peninsula is North Cyprus's most unspoiled region. Set in the north east of the island with miles of rugged coastline, the Karpas Peninsula is home to many rare species of plant-life and beautiful wild flowers. Its pristine beaches are chosen by the green and logger-head turtles as their nesting ground, where they lay their eggs in the fine, golden sand.
Feed a wild donkey…
The Karpas Peninsula is also known for its wild donkeys, who roam freely in the unspoilt countryside. At the very tip of the Karpas Peninsula is the Apostolos Andreas Monastery, dedicated to Saint Andrew, which is considered holy by both the Greek and Turkish Cypriot communities.
The Karpas Peninsula is an easy day-trip from Famagusta. North Cyprus's most beautiful and unspoiled region should definitely be on any holiday-makers must-see list during their holiday in North Cyprus.
Perfection in pristine, immaculate, white sanded beaches…
No Hidden Charges
All our package holidays to Northern Cyprus include:

Return Flights

Hotel Accommodation

Luxury Transfers

Representative in Resort

All Taxes and Charges

Full ATOL Protection