Kyrenia, North Cyprus
Discover the beautiful Kyrenia town…
Kyrenia is full of architectural interests…
Most visitors believe a visit to North Cyprus means Kyrenia and Kyrenia Harbour. However there is so much more to discover…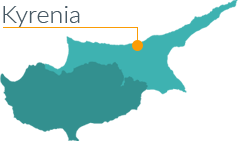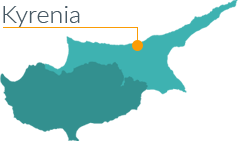 Holidays in Kyrenia in Northern Cyprus
Holidays in Kyrenia are by far the most popular choice for travellers visiting North Cyprus. It is easy to understand the charm of this beautiful harbour town. A highlight of your Kyrenia holiday is sure to be dinner on the harbour-front, watching the locals stroll by, and admiring the view of the dramatic Kyrenia castle. Sip a brandy sour as you watch the sun set or enjoy shopping for souvenirs in the narrow streets of old Kyrenia.
Holiday in one of the surrounding villages, set in the foothills of the Five Finger mountains, or choose a coastal village, perfect for beach-lovers and for swimming in the crystal-clear waters of the coast around Kyrenia. Holiday makers are drawn to the peaceful village of Bellapais, made famous by Lawrence Durrell, with its atmospheric ruined Abbey. Don't miss out on a visit to St. Hilarion, the Crusader castle perched high above the coast, which is sure to be a highlight of your holiday in Kyrenia.

The tranquil countryside…
The countryside is verdant, with abundant citrus groves and beautiful flowers, including rare orchids, many of which are only found in the surroundings of Kyrenia. North Cyprus is well known for its beautiful scenery and this region is one of its most stunning.
Kyrenia is the perfect setting for a relaxed Mediterranean holiday. Cyprus Premier offers an excellent choice of holidays in Kyrenia. Whether you favour a hillside retreat or a beachfront hotel, we are sure to have the Kyrenia holiday for you.
The epicentre of distinguished culture, renowned history and celebrated yet humble tourism...
No Hidden Charges
All our package holidays to Northern Cyprus include:

Return Flights

Hotel Accommodation

Luxury Transfers

Representative in Resort

All Taxes and Charges

Full ATOL Protection